YAMAHA YCL-450 Bb CLARINET
Key: Bb, Key Material: Silver-plated nickel silver
4
While silver-plated keys of YCL-450 give a softer and warmer sound, nickel-plated keys of YCL-450N delivers a clear focused tone.
New adjustable thumb-rest and strap ring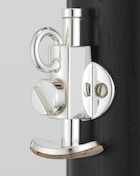 A new adjustable thumb-rest accommodates different sized hands helping the player develop proper playing technique. In addition, a strap ring allows for the instrument to be held without extra effort. Firmer screws and silver soldered ring gives this new feature excellent durability.
Optional Eb lever

YCL-450E with Eb lever is available as an optional extra.
เคส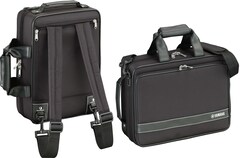 CLC-400EII is a semi-hard case that can be carried in your hand, over your shoulder, or like a backpack.
YCL-450
YCL-450N
คีย์
Bb
Bb
ปากเป่า
4C
4C
กล่องใส่
Included
Included
Fingering System
Boehm, 17 keys, 6 rings
Boehm, 17 keys, 6 rings
Barrel Length
65mm
65mm
Toneholes
Straight tone holes with tapered undercut
Straight tone holes with tapered undercut
Thumb-rest
Adjustable with strap ring
Adjustable with strap ring
Material
Body
Grenadilla
Grenadilla
Keys
Silver-plated nickel silver
Nickel-plated nickel silver